New Mesh Routers To Light Up The Whole Boat
Hot on the heels of Eero's announcement that it was delaying the shipment of its mesh-network router, which is designed to blanket a home with Wi-Fi coverage using multiple access points, another startup enters the market with—you guessed it—a mesh-network router designed to blanket a home with Wi-Fi coverage using multiple access points.That challenger, Luma, is now taking preorders, and like Eero, Luma doesn't expect to ship its first product until early 2016 (Eero has closed its preorder program).

Both routers are dual-band devices based on the 802.11ac standard, and they're both designed to not look like routers. Both companies claim to have some secret sauce that makes it easy for the average consumer to set up one as a router and deploy additional units as access points to extend the network's range (each device will be sold individually or in three-packs). Luma's software, on the other hand, just might set it apart from not only Eero, but the rest of the router market as well.

"We've stopped hackers from breaking into Fortune 500 companies for years," said Luma cofounder and CEO Paul Judge, "so we built intrusion and malware detection into the router to prevent hackers from getting into your home network." Judge and Luma cofounder Mike Van Bruinisse have previously built several Internet-security businesses that were acquired by larger players: CipherTrust, acquired by Secure Computing; Secure Computing, acquired by McAfee; and PureWire, acquired by Barracuda.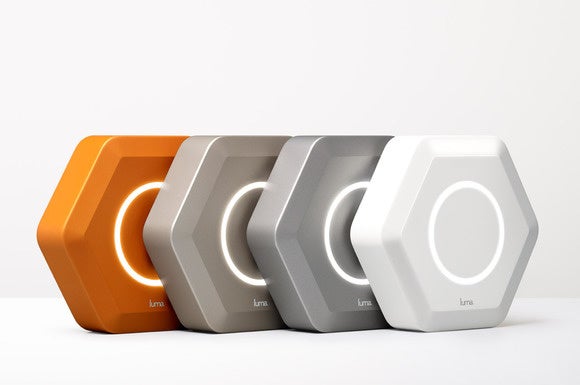 One of the interesting tricks the Luma will be capable of, according to Judge, is performing a security audit to make sure every attached device is password protected. It will then scan for the presence of malware on the network. Parental-control software usually leaves me cold, because it's so poorly implemented and too easily circumvented. While I haven't seen Luma's effort in action, it certainly sounds promising.
"You can 'pause' the Internet at any time so your kids can be kids," Judge said. He says the company developed an easy-to-use management app that allows an administrator to assign users to devices, limit the time individual users are allowed to use the Internet, and extend their time if you so choose. You can also control where users go. And the app shows what every user is doing on the Internet. It will send you alerts if the kids try to go to inappropriate online destinations. And you don't need to be home and on the network to use the app; you can manage the router from anywhere you have Internet access.
"You can establish global policies for everyone, or you can manage down to the user level," Judge said. "You can also render someone invisible; so that they're not subject to any of the content filters." Another unique feature: Judge says the router "can make sure your IoT devices are talking only to the servers that they should be. We're creating a white list to prevent unauthorized dialing out."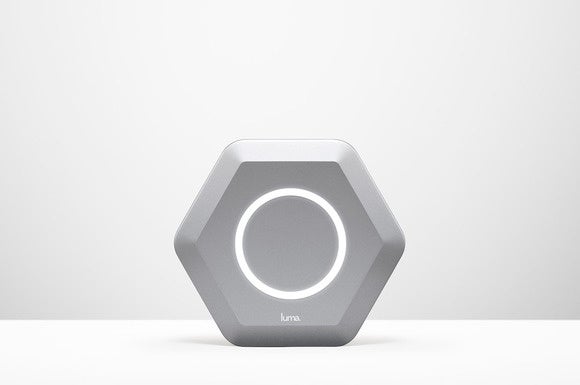 The Luma otherwise sounds very similar to the Eero. "We help homeowners build an intelligent Wi-Fi system," Judge said. "We call it 'surround Wi-Fi,' because you deploy multiple access points to provide coverage through the entire home. In the enterprise, you'd have multiple access points, so you can buy either a Luma singly or as a three-pack. Our mobile software will help you determine the best placement and how many access points you need."
The Luma will be a dual-band device operating on the 2.4- and 5GHz frequency bands simultaneously, and it will support multi-user MIMO. The hexagonal-shaped enclosure, which is designed to stand vertically, will be outfitted with two gigabit ethernet ports and one USB 2.0 port that can be used for sharing network-attached storage or a printer. It will be available in white, silver, gold, or orange finishes. "We wanted to design something that people wouldn't be afraid to have out in their home décor," Judge said.
The Luma will be priced similarly to the Eero: $199 each or $499 for a three-pack. And as Eero did while it was accepting preorders, Luma will be available at a substantial discount for the next 30 days: $99 each or $249 for three. You can order one at www.lumahome.com or on Amazon.com as part of the company's Launchpad program.